I think the big question regarding this week's topic is not, 'will education change due to technology?', because I think it surely has and that it is. The question in my mind is, 'why is it changing so slowly?'. In the video below, Dr. Madhav Chavan makes a very good point by suggesting that we are merely using technology as a tool to match with our linearly designed educational system. Whereas, technology itself is not linear which creates conflict between the two. He finishes his explanation with this great quote, "right now, the technology is only a helper in the current, inefficient system".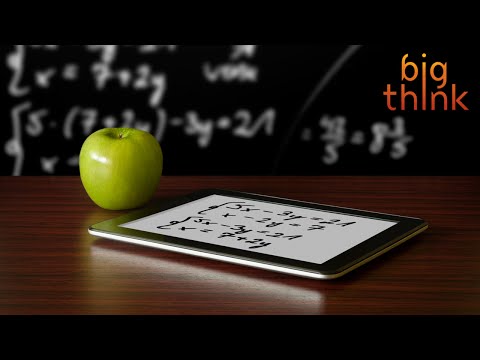 I feel that watching this video answers my question above, along with this week's assignment question as well. To answer the question, 'will education change due to technology?' I now see the answer as, 'if we as educators allow it to'. And to answer my question, I believe the educational system is moving so slowly because we are only using technology to support a very linear and limiting curriculum, instead of the opposite. Let's think for a little bit about how we use technology (for the most part) in our classrooms. We use it to; record videos and capture images, to create fancy posters and engaging presentations, give students real time feedback, do quick extensive research, etc… All great things in my opinion, but now that I think about it, all really just demonstrating understanding of the curriculum standards in techie ways that make it just a tool to support the (pretty much) same system that had always been in place.
What do we do then, if we really want to take advantage of this opportunity for students? As stated in the article, 'The Classroom Is Obsolete: It's Time for Something New' By Prakash Nair, "The classroom is a relic, left over from the Industrial Revolution, which required a large workforce with very basic skills. Classroom-based education lags far behind when measured against its ability to deliver the creative and agile workforce that the 21st century demands." So another question I have based on this, is 'what is the purpose of school now?'.
A new aspect of education that I feel can fit into this is Problem-Based learning, which I think is a start. It's fun and engaging to start class with a problem and give the student the time to find the answer, while they use the internet and work and learn from others. This is a very debatable scenario, but it's starting to make sense that we could just pose problems for student and allow them to learn while solving it. A teacher could be the one who asks the students good questions and prompts them to reflect. A teacher could also be great at giving feedback. Do we really need to teach kids basic Math or could we just engage them with a problem or task that forces them to want to learn and therefore, learn how to learn? Could this be the start?